Chicken with Mango Chutney Sauce Recipe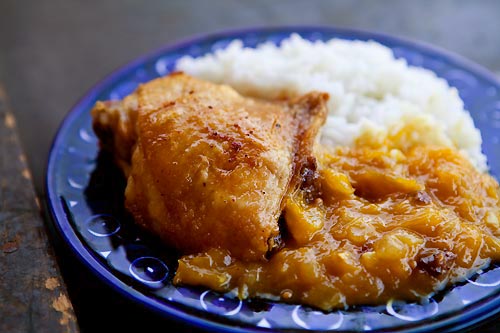 This recipe calls for chicken thighs because the stronger flavor of the thighs works well with the chutney sauce. You can easily make this with all or any chicken parts. Just know that you'll need to cook breasts to 170°F.
Ingredients
2 lbs chicken thighs, bone in, skin on, trimmed of excess fat
Olive oil
Salt and Pepper
2 ripe but firm mangos, cut and peeled, cubed into 1/2-inch cubes
Olive oil
1 medium onion, chopped (about 3/4 cup chopped onion)
1 garlic clove, minced
1 Tbsp chopped candied ginger (or fresh ginger)
2 Tbsp chopped raisins
1/2 teaspoon mustard seeds
Scant pinch of red pepper flakes
4 Tbsp sugar
3 Tbsp white vinegar
1/2 cup water
Salt to taste
Method
Heat 1 Tbsp olive oil in a large sauté pan on medium heat. Add the onions and cook until soft, about 5 minutes. Add the garlic and cook a minute more. Add the chopped mango, ginger, raisins, mustard seeds, red pepper flakes, vinegar, water, and sugar. Bring to a simmer, reduce heat to low, cover the pan, and let cook gently for 30 minutes.


While the chutney is cooking, cook the chicken. Preheat oven to 400°F with rack in the middle position. Coat the bottom of a roasting pan with olive oil. Rinse the chicken thighs in water, pat dry. Rub some olive oil all over the chicken pieces, sprinkle with salt and pepper. Place chicken pieces in roasting pan. Cook in oven until the juices run clear when poked with a sharp knife, or when the internal temperature of the thighs is 180°F, about 30 minutes. If the chicken pieces are not browned enough for you, you can finish them in the broiler for the last 5 minutes of cooking. If your chicken pieces are extra large, after 30 minutes, lower the heat to 350°F and cook until the chicken pieces are cooked through. Remove chicken and roasting pan from oven.


Remove chicken pieces from roasting pan. Pour off rendered chicken fat, save for a teaspoon or so. (Do not pour down the drain or it will solidify and block your drain). Put mango sauce into the roasting pan with remaining chicken drippings. Spread the sauce over the whole bottom of the pan. Let sit for a few minutes to soften the drippings, then scoop up and place into a serving dish. Adjust seasonings. If too acidic, add more sugar. Add salt to taste.
Serve chicken with mango chutney sauce and steamed rice or Spanish rice.